Index
Title Screen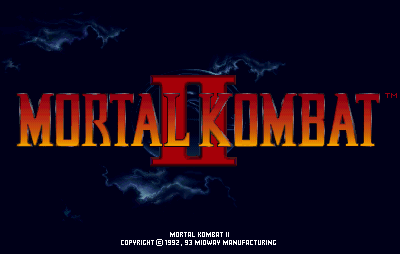 Game Story
500 years ago, Shang Tsung was banished to the Earth Realm. With the aid of Goro he was to unbalance the furies and doom the planet to a chaotic existence.
By seizing control of the shaolin tournament he tried to tip the scales of order towards chaos. Only seven warriors survived the battles and Shang Tsung's scheme would come to a violent end at the hands of Liu Kang.
Facing execution for his failure and the apparent death of Goro, Tsung convinces Shao Kahn to grant him a second chance...
Shang Tsung's new plan is to lure his enemies to compete in the Outworld where they will meet certain death by Shao Kahn himself.
Now, the Kombat kontinues...
Characters
Choose Your Fighter
Secret Characters
Bossess
Arenas
Cheats
Jade: In the match before the "?" sign, win a round using only Low Kick and you'll fight against Jade.
Smoke: When fighting at The Portal, if you uppercut your opponent, Dan Forder might appear in the bottom right corner of the screen saying "Toasty!", when that happens press Start and you'll be teleported to Goro's Lair to fight against Smoke.
Noob Saibot: To play against him, you must win 50 wins in a row. (25 on Sega Genesis)
Pong: To play the classic game Pong, you must win 250 fights in a round.
Reviews
Click here for reviews.
Community content is available under
CC-BY-SA
unless otherwise noted.